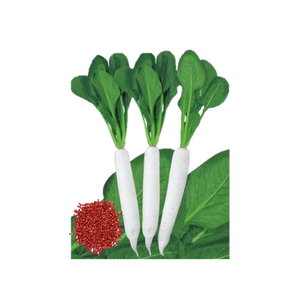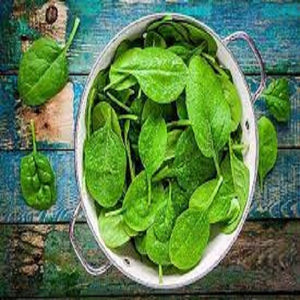 Overview
Radish Palak Patta is rich in antioxidants such as Vitamin C, catechin, Vanilla Acid etc which protect cell damage in our body. Palak Patta Radish plays an important role in regulating the blood sugar level in our body and thus is great for diabetes patients. High levels of Calcium and potassium in the palak patta radish contribute to lowering the blood pressure and reducing the risk of a heart disease. For people who want to manage their carbohydrate intake, the palak patta muli is the best choice for you since it is low in carbs and also contributes to improving the blood flow in our body that enables better energy production. 
Thus the radish desi palak patta has numerous health benefits attached to it. You can buy them from the market near you or even grow them in your own garden to experience the early freshness. You can get the radish seeds from Urja Seeds. It provides the best and highest quality seeds in the market and has been working towards research and development in this field for many years now. 
The Radish seeds take only 3 weeks to enter their maturity stage. The process of growing the Radish Palak Patta is thus easy and fast. Choose a perfect spot for the radish seeds in your garden. There must be direct access to sunlight in this particular spot. Prepare the soil well and add the required fertilizers, manure, organic compost etc.
Sow the palak patta radish seeds ½ inch deep into the soil and 1 inch apart from each other to avoid any possible clashes. Make sure the soil remains moist by watering the plant regularly to successfully germinate the seeds. You can take the plant out of the soil with your hands once you feel that the plant has reached its harvesting capacity.
Radish main season varieties develop best flavor, texture and root size when the temperature is between 10-15°C. Maximum root growth occurs initially at 20-30°C and later at 10-14°C. More foliage growth is favored at temperature above 20°C. In hot weather, roots become pungent and tough before attaining marketable maturity
Variety Details
Heavy yielding non-bolting mid season variety
Long and slightly thick roots
Average weight – 280 to 320gms
Ready for harvest 55 days after planting

Approx. seeds count - 500
Sub Category - Radish Seeds
Category - Vegetable Seeds
Amount of seed lesser then described
amazing results
happy to see so many radishes in my vegetable garden