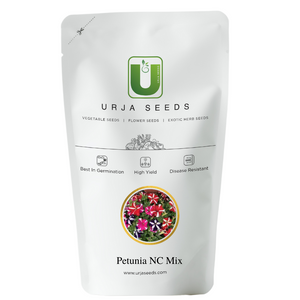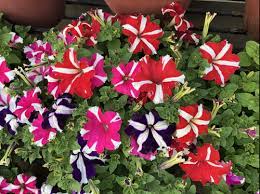 Overview
The petunia mix flowers form an amazing cascade and have a blooming character that lasts for a long period of time. Therefore they are used in flower boxes and hanging containers that display effectively the beauty of these flowers. 
The petunia mix seeds grow best when they have access to full sunlight. They can grow well in moderate sunlight too, however it is necessary to ensure that they get sufficient light for them to bloom. There are certain edible flowers also that have many health benefits. So in short, do grow flowers in your garden and make it more beautiful with flowers. There are many indoor plants also that grow well in your home's sunny corners. One can try that also to have cool and fresh air inside home.
Well drained sandy soil with neutral to slightly acidic properties is best suited for the petunia cascade flower seeds. Make sure the soil is best i.e. smooth , clean and mixed with organic compost and fertilizers that will protect the plant from insects and pests.
Sow the seeds on the soil surface and cover the soil with plastic. You can start by keeping the plant indoors for a few days. Later you can transplant it outdoors to speed the growth process.
You should water the plant twice a day. The seeds shall germinate in a 5 to 15 days period. You can get the best quality petunia mix seeds from Urja Seeds.
Extremely prolific plants with a trailing habit and extra large flowers, although not a true trailing variety. Ideal for baskets and containers and will flower all summer, creating a stunning look in your garden.
Regular removal of dead flowers will encourage new growth and a continuous display
Approx. seeds count -40
Category - Flower Seeds
Best flowers of my garden
the flower seeds bought from Urja seeds bloomed so well...