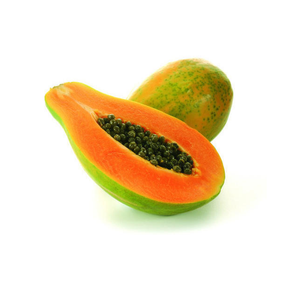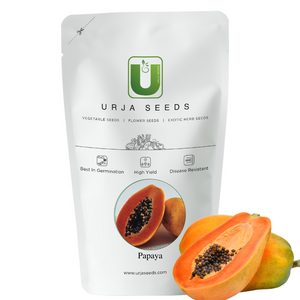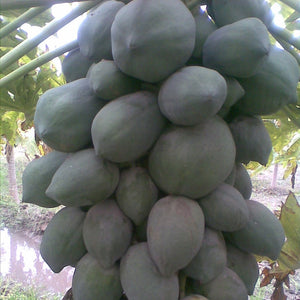 Description
Papayas are rich in Vitamin E, Vitamin A and Vitamin C and are therefore of high nutritional value. Papaya F1 Hybrid seeds comprise antioxidants that help reduce the cholesterol levels in our body and thus provide protection against heart and blood pressure related diseases. Papaya is also commonly known to aid the reduction of high sugar levels in humans. It also facilitates smooth digestion and improves fighting chances against cancer.
You can grow the Papaya F1 Hybrid seeds in your home garden to avail all these amazing health benefits. Urja Seeds provides the best F1 Hybrid Madhuri Papaya seeds that are fresh, nutritious and of the highest quality available. Plant these seeds in small pots ( Seeds can be later transplanted into bigger spots ) and add the perfect soil mix consisting of organic compost, fertilizers and sand.
The Madhuri Fruit requires proper sunlight and warmth so make sure you place the plant in an area with sufficient light source. Keep the soil moist by watering the plant after regular intervals. The successful germination takes place after 4 or 5 weeks. This is the right time to start the transplantation and get rid of small leaves or infected parts.
In around 9 to 11 months, the Papaya F1 Hybrid fruits will start showing on the plant. Make sure you do not over water your plant during this crucial stage. Get ready to witness the tasty fruit soon!
Papaya, also known as pawpaw is a delicious fruit rich in vitamin C. It is a tropical fruit and is highly valuable medicinal ingredient. Originally from Costa Rica and South Mexico, it is now widely cultivated worldwide. Globally, India leads the world in papaya production followed by Brazil, Mexico, Nigeria, Indonesia, Peru, China, Thailand and Philippines. Being a highly productive crop and easy to grow papaya is cultivated widely as a kitchen garden in India
Variety Details
Selection from Washington variety
Bright reddish orange color on maturity
Soft flesh sweet in taste
Average weight 1.5 to 2.0kg

Approx seeds count - 40
Category - Papaya Seeds
High yielding seeds
Happy to have good quality and high yielding seeds from Urja Seeds
Been searching for good quality papaya seeds. Thanks, urjaseeds!!