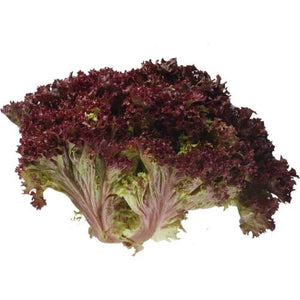 Overview
The Lolla Rossa Lettuce is rich in Vitamins A and Vitamin C. It comprises adequate measures of fibre, folate and iron. The antioxidants in lolla rossa protect us from chronic diseases like high blood pressure, cancer etc. The lolla rossa lettuce seeds are said to be first harvested by the Egyptians who discovered the multiple medical benefits of this vegetable. They used the lolla rossa lettuce in various recipes to overcome the pain and symptoms for health issues such as stomach aches. 
Today a lot of people enjoy the wide range of delicious lolla rossa salad recipes. These recipes have the perfect combination of taste, texture and colour. The lolla rossa lettuce is a great alternative for bread or wheat and can be used hassle free for rolls, wraps, sandwiches and burgers. It offers a perfect way to garnish and layer your salads and completes the dish in every possible way. Thus we can say that not only are the lolla rossa lettuce nutritious and packed with health benefits, they are amazingly delicious and can be used in multiple forms in our dishes.
You can grow the lolla rossa lettuce seeds in your home garden by ordering the seeds from agricultural seeds online store - Urja Seeds. It provide the highest quality seeds in the market. While planting the seeds, using the right gardening tools, make sure they are 12 to 14 cm apart from each other. Plant them at a depth of ½ an inch and ensure that the soil remains moist so that there is successful germination. Generally the germination period for the lolla rossa lettuce seeds takes 7 to 14 days if you water the plant adequately on a daily basis.

Variety Details
Non-heartening Italian lettuce of excellent flavor
Produces compact, loose heads of finely frilled leaves with colorful edges
Average height: 13 to 15cms; average spread: 20 to 25cms
Average weight: 500 to 700gms

Approx. Seed count - 300
Category - Vegetable Seeds
Happy to see the yield
i am very happy to see good yield of Lettuce Lolla Rossa in my kitchen garden. Thanks Urja Seeds