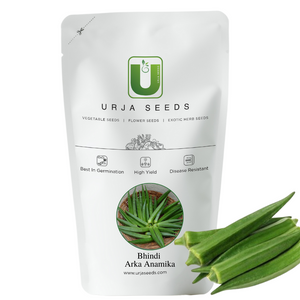 Overview
The arka anamika bhindi grows best in sandy to clay loamy soil and in 20 to 23 degree Celsius temperature. Before sowing the seeds soak them in water overnight to ensure faster germination. While planting the arka anamika bhindi seeds space them out at a distance of 3 to 4 feet to allow unrestricted growth. 
The bhindi arka anamika plant grows best in full sun so choose a spot that provides direct access to sufficient sunlight. Water the okra arka anamika plant regularly especially during the growing season to ensure that the soil is moist. Do ensure you prepare best soil mix for the little seeds so they get enough nutrients to grow.
The harvest period for the arka anamika okra arrives after 2 months of planting the seeds. Harvesting should be done carefully so the yield is not affected. You can get the best medicinal advantages of the okra arka anamika by not overcooking it. The arka anamika bhindi is rich in dietary fibres, minerals, vitamins etc. and is widely consumed in order to control higher cholesterol levels and weight gain problems.
The arka anamika bhindi is widely loved by Indians as a vegetable. Consuming it on a repeated basis improves the body's ability to fight infections, provides a protective layer against illnesses such as cough and cold and also strengthens the bones in our body.
Variety Details
Tall vigorous dark green colored plants with excellent shelf life
Erect with 3 to 4 branches
Average height 10 to 12cms; average weight 10 to 11gms
Seed Count-150
Sub Category - Okra Seeds
Category - Vegetable Seeds
best okra seeds
best okra seeds as have seen such high yield in my kitchen garden
Best
Love to grow this. I highly recommend this seed.
Thanks, Urjaseeds