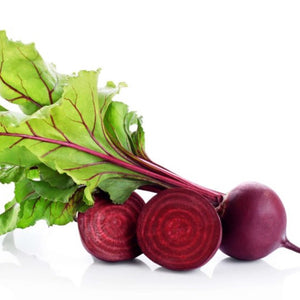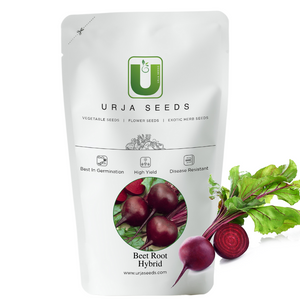 Overview
The plant compounds present in the Beetroot hybrid varieties help protect cells from damage and also reduce inflammation to a great extent. Consuming beetroot hybrid enables improved functioning of our heart and lungs during exercise and also leads to improved blood flow in our body. Beetroot helps to boost the immune system in our body and helps in fighting various diseases. 
Thus, the beetroot hybrid has a wide range of health benefits and must be included in your daily diet. You can cook the beetroot halwa, beetroot paratha, beetroot puri bhaji, beetroot rice or beetroot chutney to experience the taste and flavour of this vegetable and at the same time stay healthy. Beetroot salads and soups are a perfect choice for those who are looking for nutritional yet minimal food dishes. 
You can easily grow the beetroot hybrid varieties in your own garden. Acquire the best quality seeds from Urja Seeds and soak them in warm water before sowing in order to speed up the germination process. Select the perfect spot which has access to sufficient sunlight and place for accommodating the growth of the beetroot plant. 
You can plant the beetroot seeds in a pot which is 20 inches in depth and height both. Make sure the pot has holes facilitating drainage of excess water in the plant.
The plant will be ready for harvesting in around 2 months. One must be careful during harvesting process and it is an important step. Keep your plant clean by using the right fertilizers, compost and water from time to time so that there is proper protection from pests and insects. 
Also known as garden beet which is a sweet, healthy vegetable loaded with antioxidants. Grows well in the temperature range of 10-30°C
Variety Details
Dark red vigorous growing plant
Globe shaped smooth roots
Average weight 100 to 150gms

Approx. Seed count - 50
Sub Category - Beetroot Seeds
Category - Vegetable Seeds
yummy beets in my garden
thanks Urja Seeds for providing high yield beetroot seeds online at best price.