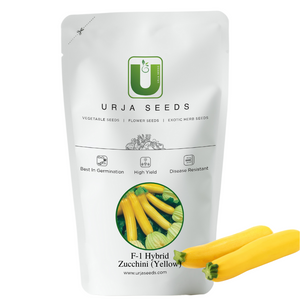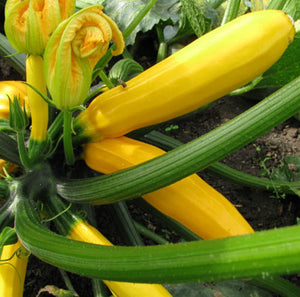 Overview
Zucchini has been used in traditional medicines for health issues like common cold and body aches. It is rich in several minerals, vitamins and plant compounds. It comprises Iron, zinc, calcium and phosphorus. Antioxidants like Beta Carotene are found in abundance in Zucchini. Apart from this, Zucchini helps in proper digestion because of its high water content, may help reduce High blood sugar levels for patients diagnosed with Diabetes level 2 and may also improve heart health. Thus, Zucchini is a great addition to your daily diet considering the wide range of health benefits that it offers. 
Amongst the different colour varieties of Zucchini, the
Yellow beauty
has an additional benefit which is its sweetness. The
Yellow Summer Squash
can be baked, sauted, grilled, steamed and boiled. Zucchini yellow vegetables are famously known for their presence in Indian traditional curries. They add the perfect nourishment and taste needed to complete the dish. You can add any of the
summer squash varieties
to your salads or oatmeal as an evening snack and get the right amount of protein and fibre intake.
You can grow a

yellow round zucchini

in your home garden. The process is not at all complex and the harvest turns out to be plenty and beautiful. It is best to grow them during the summer season since they require high temperatures for proper growth. The total time taken by the plant to harvest will mostly be around 2 months. Before planting seeds, ensure seeds must get proper care  so they give high yield.
To ensure the best possible environment for the plant, place it in such an area where it has access to direct sunlight. Loamy soil with all the necessary nutrients, compost and fertilizer's should be properly prepared. Sow the

zucchini seeds at least 1 inch deep but 2- 3 feet apart from each other. Use proper gardening tools to plant the seeds. You can also grow them on trellis for additional support. The growth of the zucchini plant will be consistent and plentiful.
Variety Details
Bright golden colour with excellent flavour
Maturity period: 45 to 65 days
Fruit size: 8 to 12 inches
Average weight – 400 to 600 gm

Approx. Seed count - 10
Seed quintity
Received only 28 seeds but on website showing 60 seeds
Superb yield
happy to see such high yield of zucchini from the f-1 hybrid zucchini seeds bought from Urja Seeds. Thanks