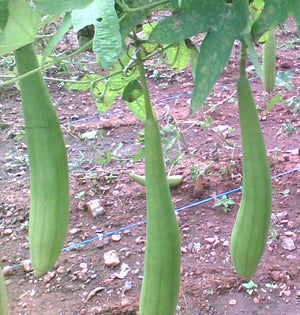 Overview
The scientific name of sponge gourd is Luffa aegyptiaca.
F1 Hybrid sponge gourd improves cardiovascular health and brain function and boosts our immune system. Green gourd acts as a blood purifier and maintains the sugar level in our body, thus preventing diabetes. 
It also plays a major role in the treatment of anemia and arthritis. Apart from this sponge gourd has anti inflammatory and antibiotic properties that help prevent skin problems and acne.
Did you know that the sponge gourd plant has so many health and lifestyle benefits? You can avail these advantages by growing the sponge gourd vegetable in your own garden. It is very easy to grow sponge gourds in your kitchen garden.
You can sow the sponge gourd seeds in the month of April, during spring. It is the best time for the plant since it requires warm weather. Sow the seeds 2 cm deep into the soil. Ensure that there is best soil mix for seeds that is it should be warm and is full of nutrients and organic fertilizers.
Plant the seeds indoors first. Once you observe small leaves on the plant, which will arrive in one months period, you can transplant it outdoors. Choose a spot that has proper access to sunlight. Regularly water the plant to keep the soil moist. Use best gardening tools for kitchen garden. The harvest can be done in 120 to 150 days. Do harvesting carefully.
Sponge gourd can be grown in tropical and sub-tropical climate. It grows well under warm and humid conditions. It is very sensitive to frost and low temperature
Variety Details
Strong and vigorous growing vines
Light green in color
First pickings in 40 to 45 days
Average crop period is around 140 to 150 days
Average fruit length – 20 to 25cms

Approx seeds count - 30
Sub Category - Sponge Gourd Seeds
Category - Vegetable Seeds
Happy customer
So happy to see such good yield of sponge gourds in my kitchen garden.
Amazing results. Keep up the good work Urjaa. Bring us more variety