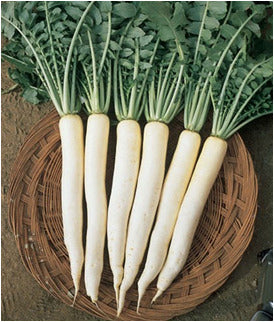 Overview
The Radish seeds are rich in nutrients and minerals such as potassium and calcium. Consuming Radish can help reduce blood pressure levels and thus keep your heart healthy. Radish improves the blood flow in our body given the presence of natural nitrates in it. 
You must have tasted the brilliant Radish pickles with vinegar and spices? You can make it yourself by growing Radish in your garden. Other Radish recipes include Radish salad, Burger with lettuce and radish, Veggies platter, Roasted Radish with garlic and pork chops with sliced radish.
To start with your gardening process or start with the kitchen garden, choose a spot that gets at least 6 hours access to direct sunlight. Clean your soil mix and get rid of unnecessary stones and debris. Add required organic compost and fertilizers to protect from insects and pests. The best radish season is before the arrival of the summers when the temperatures are not that high. Spring and Fall can prove to be the appropriate time for sowing the seeds. In short, its easy to grow radishes in your vegetable garden.
Unlike other plants, sowing the radish seeds directly in the garden without transplantation is the best practice. Sow the seeds at a distance of 1 inch from each other and ½ to 1 inch deep into the soil. Water the plant regularly to keep the sandy soils moist. Make sure you make best soil mix for seeds.
Radish main season varieties develop best flavor, texture and root size when the temperature is between 10-15°C. Maximum root growth occurs initially at 20-30°C and later at 10-14°C. More foliage growth is favored at temperature above 20°C. In hot weather, roots become pungent and tough before attaining marketable maturity
Variety Details
Can be sown all year round (except Jan to March)
Short leaves allow more plants per acre
Pure white tapering roots
Average height – 10 to 12cm
Sub Category - Radish Seeds
Approx. Seed Count-500
Nice yield
happy with the high yield radish seeds / muli seeds from Urja Seeds.