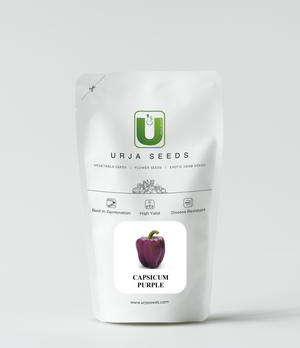 Overview
The scientific name of capsicum is Capsicum annum. It belongs to the family Solanaceae. It is also known as bell pepper Worldwide. The plant grows well in warm loamy soil, it is sensitive to water logging and cold temperatures, it is a non-photoperiod sensitive crop and has self-pollinated flowers.
Purple capsicum is nothing but a capsicum which is more mature than the yellow or red capsicum. Purple bell pepper is rich in vitamin C, beta carotenoids and phytonutrients. Purple beauty capsicum contains compounds like Astaxanthin and lycopene which are potential antioxidants. Buy fresh purple capsicum seeds at a very reasonable price from Urja Seeds and grow purple peppers in your kitchen garden easily.
Bell pepper is more sensitive to unfavorable environment. The optimum night temperature for quality fruit production is 16-18°C. When the temperature falls below 16°C for extended periods, growth and yields usually decrease. It can tolerate day temperature over 30°C and night temperature 21-24°C. So it becomes important to provide best care to seeds.
The color of bell peppers changes from green to yellow, orange, and red the longer it is allowed to mature on the plant
Orange and yellow bell peppers are sweeter, with the sweetest being the red bell pepper
Approx. Seed Count -10
Good Quality
Seed quality good but delivered time 9 day
And how to order large quality ?
Nice
Very happy with the results