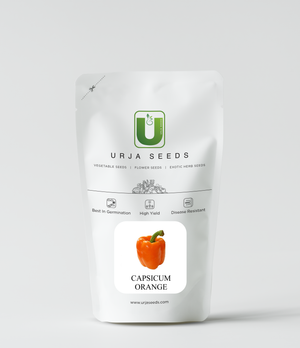 Overview
Capsicum is a world famous ingredient that is used in multiple cuisines and delicacies and in both cooked and raw forms. Capsicum comes in different colours ranging from green, red, yellow to Orange. Regular consumption of Orange capsicum can reduce the chances of cataract and improve eye health. It is also known for improving the metabolic rate in our bodies and thus contributing to weight loss and calorie balance. It also has several anti cancer benefits, helps in boosting immunity and improves bone health.
The Orange sweet pepper plant is sweet, tasty and nutritious all at the same time. It has thick flesh which is full of mind blowing flavours and thus complements all your recipes perfectly. You can consume these orange bell peppers in stuffed, grilled, baked and roasted forms. Stuffed Orange peppers and Mediterranean Stuffed peppers are one of the best recipes including Orange Capsicum.
You can grow different types of capsicums in your home garden easily. The total time required for the harvesting period ranges from 75 to 90 days. Plant the Orange Capsicum seeds in a warm spot which has direct access to the sunlight. Make sure you use a proper loamy soil mix packed with all required nutrients and fertilizers. Water the plants adequately to get the best results.
Bell pepper is more sensitive to unfavorable environment. The optimum night temperature for quality fruit production is 16-18°C. When the temperature falls below 16°C for extended periods, growth and yields usually decrease. It can tolerate day temperature over 30°C and night temperature 21-24°C
The color of bell peppers changes from green to yellow, orange, and red the longer it is allowed to mature on the plant
Orange and yellow bell peppers are sweeter, with the sweetest being the red bell pepper
Approx. Seed Count-10 
Unique capsicum
so happy to see unique color of capsicum in my home garden. It is so tasty also. Thanks urja seeds