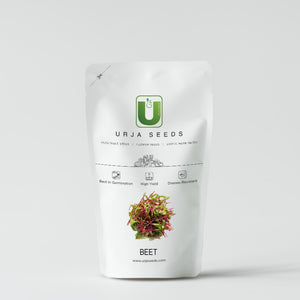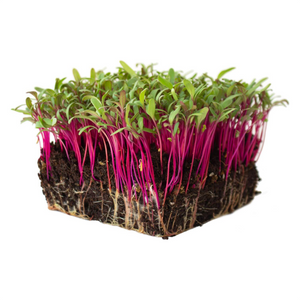 Overview
Beetroot microgreens are 2.5 to 7.5 cm tall. They can be characterized as falling between sprouts and baby leafy veggies. Beet microgreens have an amazing texture and aroma attached to them. 
They have rich vitamins such as A,B,C,E,K, minerals such as calcium and potassium and antioxidant contents that provide a wide range of health and nutritional benefits. They have a great taste and are considered to have a strong and concentrated flavour.
It is very convenient and easy to grow beet microgreens in your home garden. For growing beet microgreens you first need to acquire the best quality microgreen beet seeds from Urja Seeds. Then look out for the perfect spot which has an ideal lighting for at least 12 to 15 hours a day. 
Use a container for planting the beet microgreen seeds and fill it with the perfect soil mix comprising organic compost and fertilizers. 
Once you have sown the seeds, sprinkle some water and then cover the lid of the container with some plastic. Water the plant everyday so as to keep the soil moist.  Once your seeds germinate you can get rid of the plastic cover. Slowly the microgreens will grow and gain colour. In around 10 days the harvesting period should arrive.
Beet micro greens are fairly simple to grow. They take a little more time to mature than other micro greens, but the colourful harvest is worth it. In just 2-3 weeks, you'll can add these micro greens to every dish you can think of!
Microgreens are easy to grow and very nutritious too. Beet Microgreens are a good source of Vitamins A, B, C, E, and K, iron, calcium, and protein. Beet microgreens also have a substantial supply of magnesium, potassium, and even copper.
Seed Count- 300
Sub Category - Beetroot Seeds
Category - Vegetable Seeds
A must try seed. Highly Recomend this.