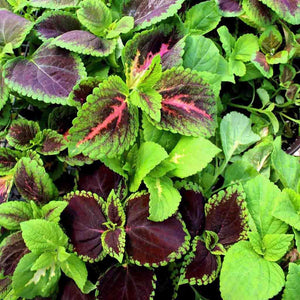 Overview
Coleus is grown for its brilliant, glowing foliage rather than flowers. This is an outstanding mixture formulated to provide the best and brightest colors of medium-sized leaf varieties. Spectacular for beds and borders.
You can easily grow a coleus rainbow plant at your house. The plant requires a temperature ranging from 70 to 75 degree Fahrenheit. You can plant the coleus rainbow mix 8 to 12 inches apart from each other and in an area where there is access to direct sunlight. It is recommended to first sow the plant indoors with right gardening tools until germination period and then transplant it out doors. The germination period takes 10 to 15 days.
Make sure that the soil you use is rich in nutrients, manure and fertilizers. It should be loamy enough for the colours of the coleus rainbow mix to glow vibrantly. You can grow the coleus in beds or borders as per your interest. They can also be grown in containers. 
The diversity offered by the rainbow coleus in terms of colours and shapes is wonderful. They play an important role in covering the open spaces in your garden. The rainbow coleus plant will grow from 6 inches to 3.5 feet in height and 1 to 3 feet in width.
Approx seeds count - 30
Not satisfied
The product displayed on website is different from the product supplied.