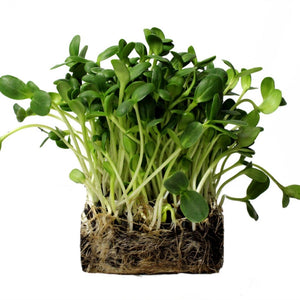 Overview
Sunflower micro greens have the deliciously nutty flavour of raw sunflower seeds with the texture of spinach. Not only is sprouting sunflower seeds easy, but they are ready to harvest and eat in two weeks!
Seed Type : Non-Hybrid, Open Pollinated And Non-GMO
Seed Pre Soak : 8-12 Hours In Cold Water
Growing Medium : Soil / Hydroponic
Flavour : Nutty Flavour With A Crunchy Texture
Colour : Medium Green
Seed Count :

 100

Seeds
Fewer seeds than promised
I had ordered few variety of microgreen seeds from Urja and I was told that I will get 200 seeds in few and in few cases such as sunflower I will get 100 seeds. I grow them commercially and was getting a very low yield despite perfect growing method and temperature. The only possible reason was less seeds. Upon counting these seeds, it turns out that most of the seeds were less than what was promised.. For example the sunflower seeds were supposed to be 100 but I was received only 78 seeds. A difference of few seeds here and there is understandable, but getting 20% fewer seeds is unacceptable. This has been true for multiple packets of sunflower, inion, red Amaranthus, etc. Very Disappointed.
Impressive results
This is my 5th purchase from Urjaseed because of the quality they give
in their seeds, Amazing results
Great Yield
I had ordered Sunflower seeds and was amazed by the yield I got, it was a big and beautiful flower, not easily available in India. Good quality seeds I must say.