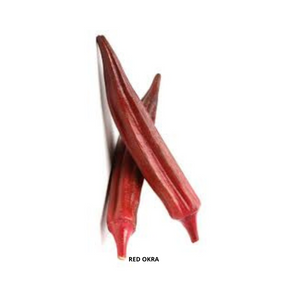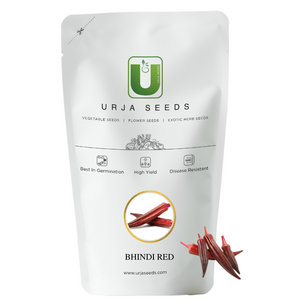 Red okra is torpedo-shaped and grows to a length of two to five inches.Okra Is Also One Of The Most Heat And Drought Resistant Vegetable.
It can be grown in Indian climate/weather conditions.

Best Suitable for Terrace Gardening, Grow bag Kitchen Gardening, Terrace Gardening & Roof Top Balcony Gardening 

Red okra can be grown same as green okra twice a year ;
Before planting red okra seeds , they must be soaked for atleast 10-12 hours ; then for an hour dried in shade this enhances seed germination.
Then they are planted keeping 25-30 cm between two plants
Packet Size-5GMS- Approx. 75 seeds.
Unsatisfied result of okra seed in plot.
I'm not satisfied with the result of red okra seeds, because only 2-3 seed grow out and all other seeds got rotten. The second reson the grown seed got infected by the disease but according to leaflet of your package there is mentioned your seeds is disease free.in a packet I got 50+seeds but only 2-5 seed germinate that is not a satisfied ratio that's made me very unsatisfied.
Red okra seeds
Most of the seeds germinated.