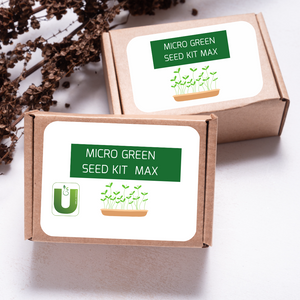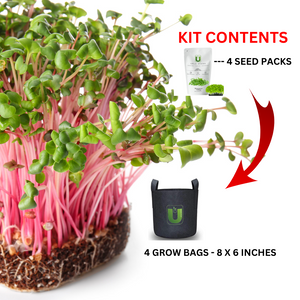 SEED TYPE : Non-Hybrid, Open Pollinated And Non-GMO
Micro greens are young seedlings of edible vegetables and herbs

Micro greens are simply seedlings that are harvested before they develop into larger plants
Micro greens are healthy because they are nutrient-dense
Micro greens are one of the most profitable crops you can grow. They can be grown in a small spaces. 
We also provide grow bags made from re-cycled plastic bottles which are a great replacement for those heavy pots. Grow bags are highly functional as they provide ease of use and can be used in areas where the soil quality is poor.Another great benefit of the bag is thats its breathable which  helps in nurturing a full functioning root system and aides drainage. It has been noticed that plants grow healthy & have high nutrition value if grown in grow bags.  
What's in the box:
| Variety | Qty |
| --- | --- |
| Onion Micro Green Seeds | 1 Packet |
| Cabbage Micro Green Seeds  | 1 Packet |
| Broccoli Micro Green Seeds  | 1 Packet |
| Red Cabbage Micro Green Seeds  | 1 Packet |
| Growbags (Big 8x6 inch) | 4 |