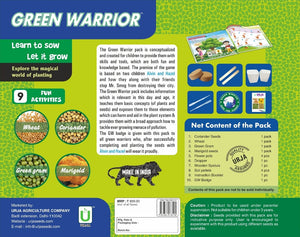 The Green Warrior Box
The Green Warrior box is an educational tool that teaches children the basics of planting in a fun and interactive way. Since, children in the age group of 5 to 9 are impressionable, this box would act as a catalyst in enhancing curiosity among them about the lifecycle of plant.
The box contents include:
Seed pack (marigold, wheat, coriander and green gram)

Seeding pots

Soil pellets

Spatula

Dropper

Green Warrior badge

Storyboard (based on 2 superhero characters)

9 DIY activities
Kids love it
I have given this products as an activity to all the kids on my kid Birthday and they just loved it. Amazing product. Thanks Urja seeds
kids Growth
Best product for kids to learn the importance of planting.
Fun Activity
It's a Good activity to do with Kids. They were fully occupied and enjoying while planting seeds.
Great Learning for Kids
It's an amazing product. Kids learn the impact of pollution on environment and the importance of plants in our lives.
Best Product for kids
Hi
this is a very nice product if you are based in cities it really helps your child develop a keen understanding of sowing & growing.