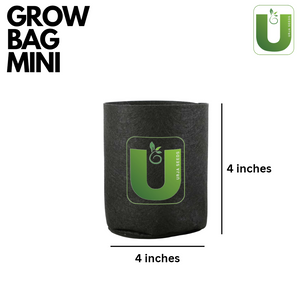 Why choose our Grow Bags?
These are high quality geo-fabric grow bags made from re-cycled plastic bottles. Our endeavour is to provide best quality at affordable prices. Our geo fabric grow bags are excellent for plant root growth as they are breathable and help in reducing circling roots. . Water drainage is primarily enhanced in these grow bags as they don't allow excess water to stay in the soil and also allow maximum aeration. 
Some Important Factors when choosing our premium grow bags- 
1. Material is eco friendly, highly durable and non plastic.
2.Requires minimal storage. 
3.Grow bags are re-usable and washable. 
4.All weather protection for plants.
5.Size-4"X4"
6. Black Colour with Urja Trust Seal.