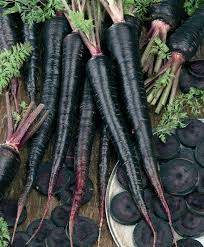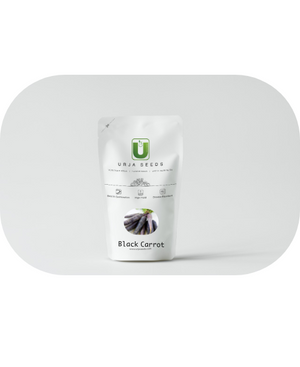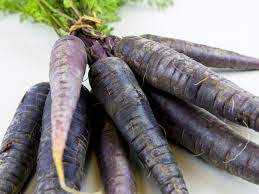 Overview:
Black Carrots best germinate and grow when the temperature is between (15 – 25 C). Carrot seeds usually germinate in the time frame of 1-3 weeks. Carrots grow best in cool temperatures of early spring and late fall.

Black carrot seeds can be used in salads, soups, sandwiches for taste and colour. It can be used in any recipe that calls for carrots and can make for a dish that is full of nutrition and character. In short, carrots are very healthy for your body. The juice of black carrot works as a blood cleanser due to high concentrations of vitamin A, C, Iron, Selenium and Calcium.
The presence of high levels of anthocyanins, which is also responsible for the colouring of the seed, is a powerful antioxidant that has anti-inflammation and anti-cancer properties. It is also instrumental in pain reduction and treatment of neurological dysfunctions.
Black carrots can easily be grown in your own garden. You can order the Black carrot seeds online from Urja and start your gardening journey right away!
Make sure to plant the Black carrot seeds outdoors and before the onsets of winters.
Plant the black carrot seeds ½ inch deep and choose 10 inch deep pots that are as wide as possible.
To encourage the root growth of your plant, choose fertilizers that are high in phosphorus and potassium. Water regularly and evenly to keep the soil slightly moist and never allow the soil to dry out completely.

Sub Category - Carrot Seeds
Category - Vegetable Seeds
Black Carrot Seeds (Kaali Gajar)
Happy customer
One of the best vegetable seeds I have bought online. Super amazing to see such big carrots.